4 Excellent weather-based emails this month ☀️🌤🌧⛈
Adding weather-targeted content to an email is a great way to provide a useful experience to those opening your emails. We've picked four excellent weather examples that have landed in our inbox over the last few weeks – and here's why we love them...
Urban Decay
­­­When it's warm outside, Urban Decay's 'All Nighter Spray' is just what you need to keep your makeup looking fresh. I loved this email for combining the live weather conditions with a weather rule to provide extra encouragement for the hero product. The purple live weather banner is displayed when the temperature is over a certain number of degrees. The messaging tied everything together perfectly – 'keep your makeup looking fresh and staying cool – perfect for hot summer days. This is a subtle, yet powerful way to use weather content to provide a meaningful experience.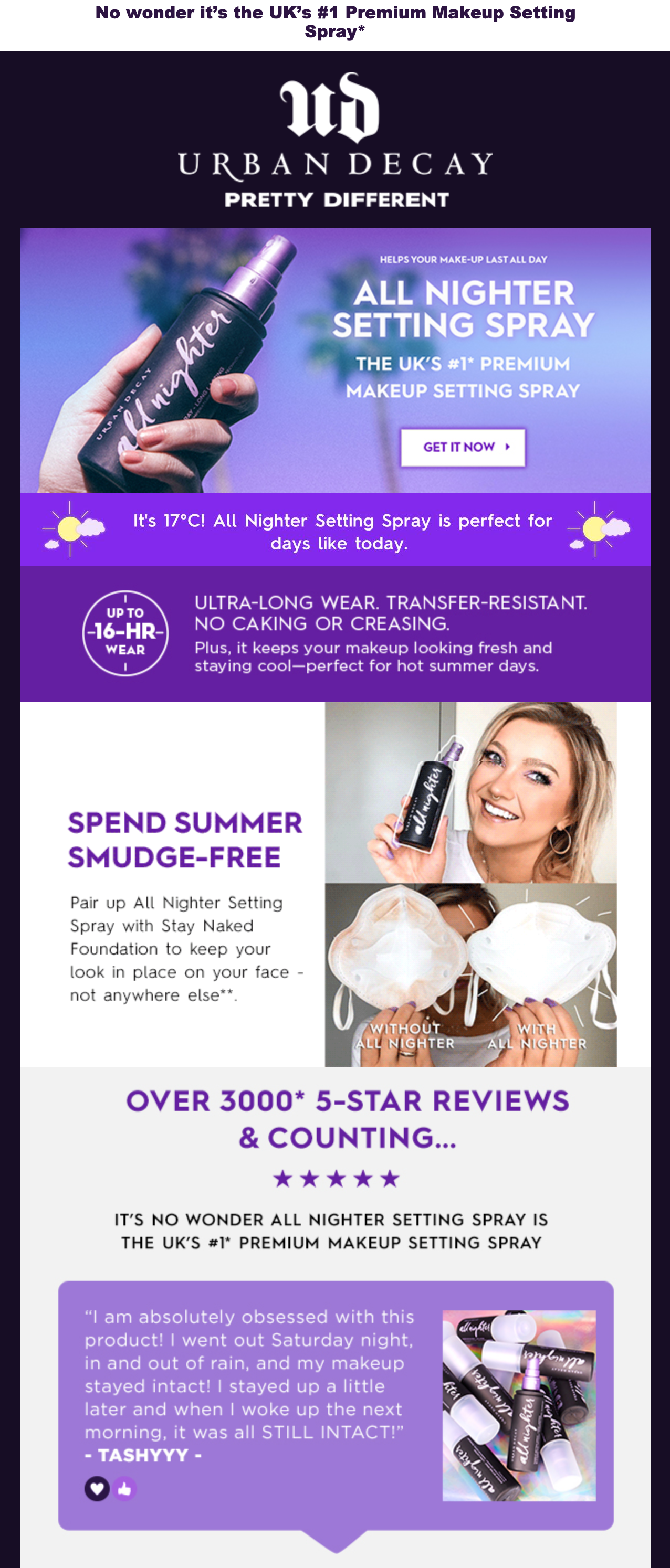 Studio
With travel restrictions in place, this staycation email from Studio got a bit thumb's up. Promoting their affordable camping essentials (everything needed for a staycation), they couldn't promise the sunshine, but they could promise a bargain. The live multi-day weather forecast was a great addition to encourage openers to plan their staycation – whatever the weather.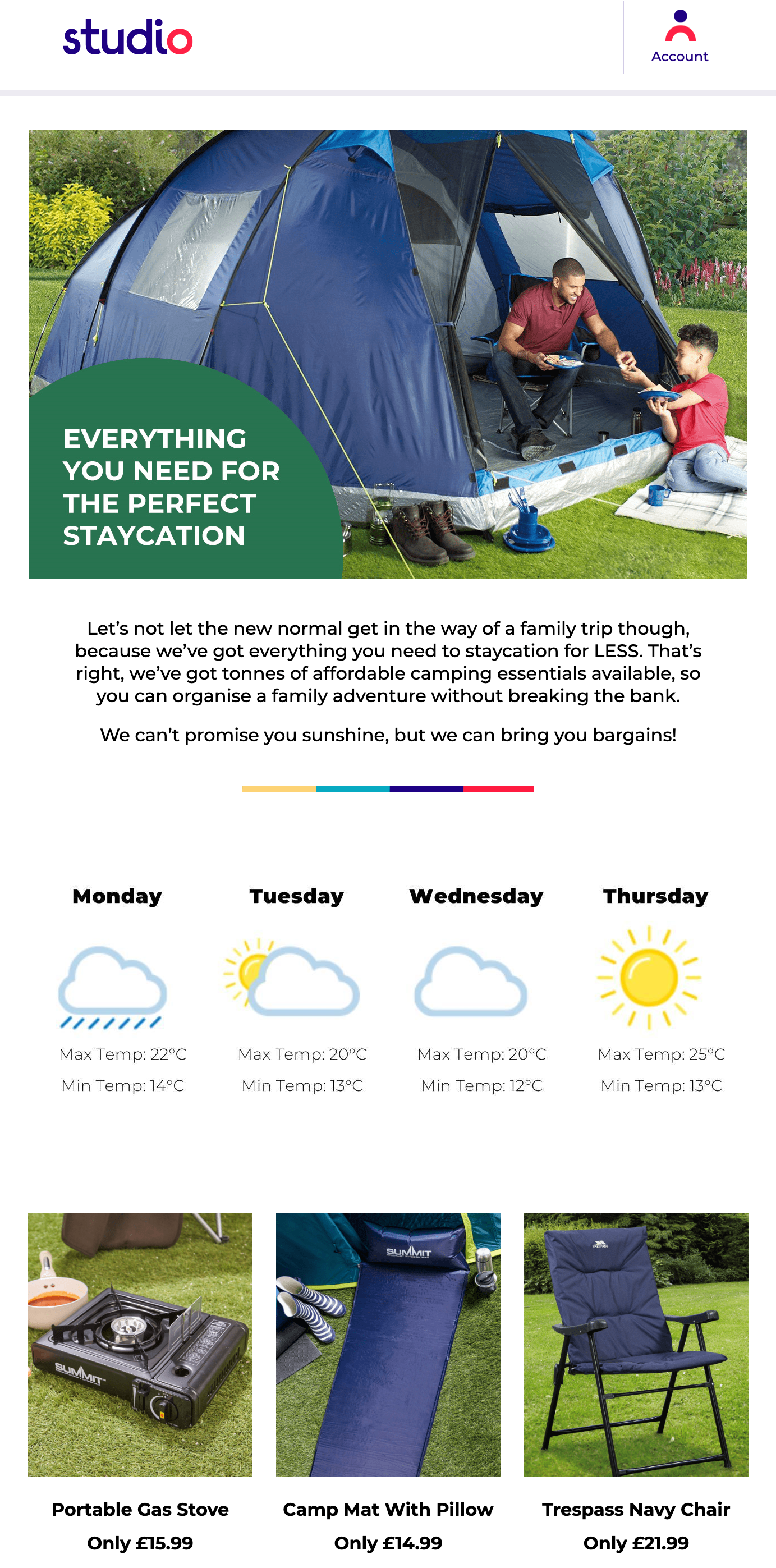 Kiehl's
We all know how important SPF is to stay protected from the sun. Now that 'summer' is here (insert joke about British summer here), this email from Kiehl's included the local temperature alongside a live UV index for the location of open. I love this email as it's helpful content that encourages action and it feels personalized to each individual that opens. The email then featured a selection of different SPF products.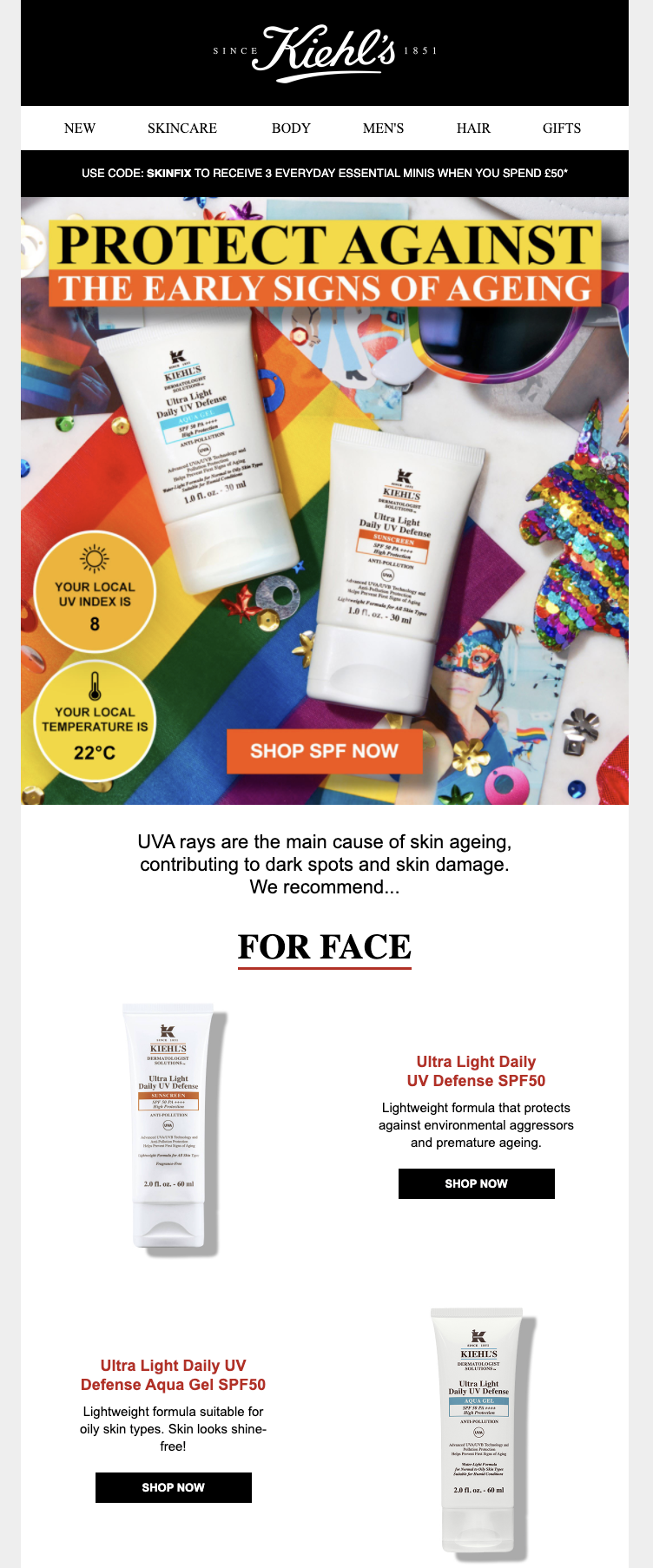 New Look
At the beginning of July, we chose this gorge summer edit email from New Look to be our Feature Friday email. It's so good, we're talking about it twice. The hero image in the email is a live, multi-day weather forecast for the location of email open. Built using custom icons and a lovely colour palette, this summer edit email is innovative, fun and stands out of the inbox. The whole email tied in beautifully to launch the collection and to make the most of the gorgeous, sunny weather the week of the launch.
Interested to know more about how weather-targeted content can boost email performance? Checkout this case study from PrettyLittleThing.