Why 2017/18 was a standout year for Kickdynamic
Hello everyone, Matt here. If I haven't met you yet, I'm CEO and Co-Founder of Kickdynamic.
So the Kickdynamic 2017/18 financial year was pretty great! It was, in fact, the best year for our company. I'm tremendously proud of what our amazing team and excellent customers have achieved this year. You are stepping up to push email marketing from one-size-fits all, bland and boring, to relevant and personalized, high-performing experiences.
At the end of a great year, our top level growth looks like this:
110% revenue growth
We continue to significantly grow in EMEA and have made excellent headway into the USA market.
Always profitable
We have always been, and will always be, profitable. You may not know that we are a 100% bootstrapped company. No VC money pushing us to overspend in the wrong places. This means we invest money back into product development and the company, ensuring we have a stable business now and in the future.
Personalizing content for 70% of UK fashion brands
We're leading the way in fashion with the majority of the largest UK brands using Kickdynamic, including: ASOS, New Look, Kate Spade, Mr Porter, Harrods, PrettyLittleThing and Matches Fashion.
100+ customers
We reached over 100 customers in December 2017.
1% churn
Customers don't leave us. This is because the technology works and a result of our expert strategic guidance and support.
Partners
We have extended our integrated partnership with Emarsys which has accounted for considerable uptake in the UK and US. We will continue to announce new partners throughout the year.
GDPR
We are GDPR ready for when the Regulation comes into force on 25th May.
The best view in London
To support our growth, we moved into amazing new offices with arguably the best view in London. If you are ever in the Tower Bridge area, please give us a shout and we'll be happy to show you the view!
In 2017/18, our customers have setup the following revenue-driving campaigns:
Live product recommendations

Product automation

Live daily deals

Weather-based imagery

Live recipes matched to live products

Location-based relevancy
We are certainly on to something...
For 10 years, we, as email marketers, have being saying we need an automated way to send email that is more personalized and with content that provides a better experience to each individual customer. However, very few email marketers have ever actually achieved personalization at a level that's repeatable week in, week out. In fact, only 6% personalize email beyond basic (e.g. menswear/womenswear) segmentation.
Only 6%!
Do any of these questions resonate with you?
Do you spend all of your time building email?

Do you send the same content to every customer, every week?
Is your email content bland, static and lifeless?
Is your ESP just not cutting it?
If you answered 'yes' to any of these, we can help you.
With Kickdynamic, you can move from sending manual, static campaigns with little personalization, to fully automated email containing highly engaging, relevant content that is personalized to each individual recipient. Brands choose Kickdynamic as their long-term personalization partner to achieve their email goals and drive success.
In a recent survey of 3000 marketers, Litmus found that the top three priorities for 2018 are personalization, automation and testing. With the Kickdynamic platform, you achieve all three.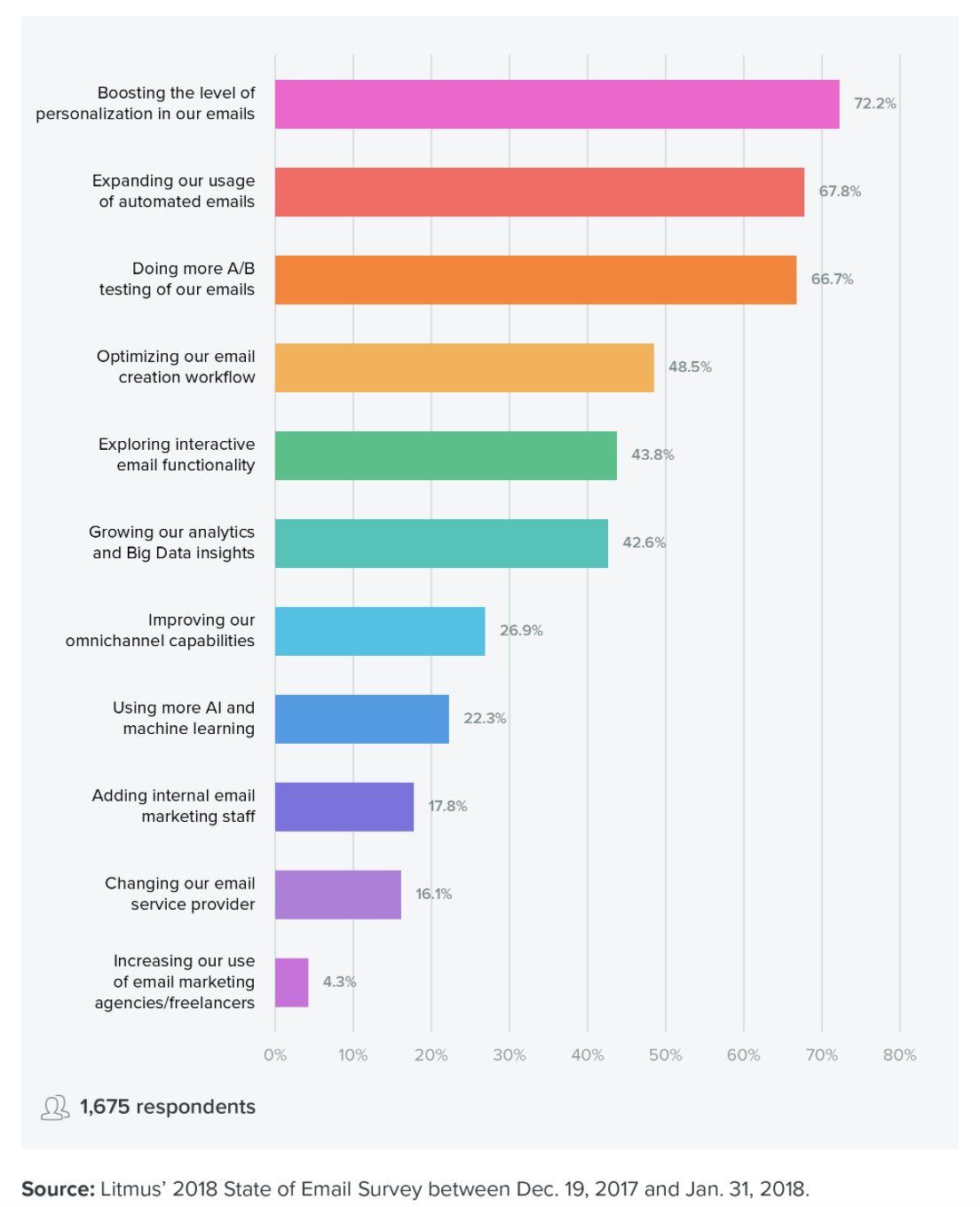 The future
As we move forward, our number one priority is simply to provide the best technology and expertise required for email marketers to achieve their automation and personalization goals. Leveraging our technology enables email marketers to keep up with a market where personalized messaging has a direct impact on brand preference and loyalty.
We have some amazing things planned for this year. We are investing heavily in our product to continue to be the market leader in personalized email content. We are also investing heavily in our team. Due to our significant growth, we are hiring across the board (get in touch if you think you have what it takes!).
Keep an eye out for our famous lunches, our next customer event (we are looking for speakers!) and our summer party for a chance to have some fun with the Kickdynamic family!
It is going to be another incredible year.
Thanks,
Matt & Kickdynamic Team