Top Tips for your Christmas Email Campaigns
There's no hiding from it; Christmas is well and truly on its way. Around this time of year customers are opening their emails, browsing, and buying Christmas gifts online to get them delivered before the big day. Make your customer's email experience as relevant and personal as possible by adding Kickdynamic Tags. There's literally hundreds of ways to use our technology at Christmas so we thought we would share our fave (easy to setup) examples in the build up to Christmas to give you some last minute ideas to really rock your Christmas campaigns. Each working day we'll post a new idea...
Christmas campaign idea number 1

'Tis the season to shop so your customers will be hitting the highstreet! Recipients that open your email on a mobile device are likely to be on the go - they might even be doing their Christmas shopping. Embed a Nearest Store Tag in your email to give shoppers personalised directions right to your store door.
Setup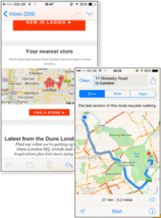 Give us the longitude and latitude of your stores and when a recipient opens your email we use GEOIP to detect their location and then show the nearest store to their location on a city level. Click on the image and they are provided with directions to your nearest store powered by GPS.
Top Tip

Take it one step further by setting rules to only display the nearest store if the recipient opens on a mobile device as they're more likely to be on the go. If the recipient opens on a desktop you can show other, more contextually relevant information such as Christmas delivery information or direct them to your online store as this is more relevant to somebody sat at a computer.