My top 3 order confirmation emails
I was helping my better half with our online order for the monthly food shop last week and after spending hours making sure we ordered all things gluten-free, dairy-free and plenty of greens, I was allowed to press the submit button. Please note, helping with the online shop doesn't yet qualify as spending quality time together!
Once the order was placed, she checked her emails, almost instantly, to make sure the order was confirmed and correct. This got me thinking about the emails we get confirming our various purchases and how different brands take advantage of the high open rates.
The average open rate for retail emails is around 20% but when it comes to confirmation emails specifically, this shoots to anything upwards of 65%. This means customers value this type of email as it is very important to them. This opens up an opportunity to maximise on the fact that the customer is much more likely to open their confirmation email over any other email they receive. My wife will open EVERY confirmation to go through the same order we spent 5 hours compiling to make sure I didn't mess everything up when she trusted me to place the order!
But what differentiates a good, from a bad confirmation email? What information should be in that email? I'm not talking about adding my order number/ID or the payment information which is all still very important. What are some companies doing with their confirmation emails that makes them stand out from the rest?
Here are my top 3 confirmation emails.
"Thank you for shopping online with Waitrose"
The primary reason you are sending a confirmation email is to confirm you have received a customer's order, show them a breakdown of their product(s) and inform them of the expected delivery. Using images of the product(s) alongside text makes life easier for shoppers and keeps the consistency with how you ordered them online in the first place.
At its core, a confirmation email should be about the order the customer has just placed. It does also open the opportunity to utilise this email to promote other related products, for a supermarket that could be recipes linking to items in the order, for example.
I like how in this email, Waitrose is enticing the shopper with a chance to win vouchers in exchange for providing their valuable feedback.
"Thanks for choosing Uber"
Don't forget your customers will open their confirmation emails on different platforms and devices, so make sure the templates are compatible! More than half of email opens are now on mobile so make sure your order acknowledgement email template is just as easy to read on a smartphone as it is on a desktop. The Uber email is easy to read on any devide and the customer can scroll seamlessly to see the important information relating to their journey.
Marketers are actively rethinking their email marketing strategy because we are already in the mobile revolution and smartphones are forcing businesses to adopt a "mobile-first" mentality.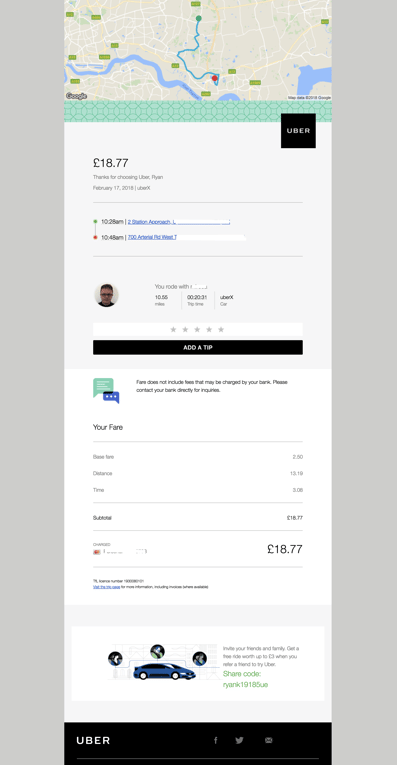 Booking confirmed. Thanks for using OpenTable!
As a customer, I have received emails which contain everything that I need and I can open on any device but can still be left thinking "That email did not look nice". Visually, some emails are unappealing and it's obvious that not much effort has gone into the design. Spending time make an email that looks good doesn't have to be time consuming. Sometimes simplicity in design is just as visually pleasing as the email template that takes mjuch longer to build.
The late, great Steve Jobs said: "Design is not just how it looks, design is how it works." and that's why I pick the OpenTable confirmation email as a personal favourite of mine. The design is simple, visually appealing and full of relevant images and text. The font type and size is perfect and crucially, the information I want to read stands out. The links I need to click are clearly laid out in case I need to alter my booking, share it or cancel.
Simple things like consistency with the company website (colour, logos etc.) must not be overlooked. Your "From" address and Subject Line must be easily recognisable and on-brand. The last thing you want is for it to look suspicious and end up in the spam folder.