A few of my fave, and not so fave, GDPR re-permission emails
It seems like the looming GDPR deadline on 25th May has spurred many brands into action over the past few weeks. I've been receiving emails to ask if I want to continue receiving more emails...If you haven't received at least 20 re-permission emails, count yourself lucky!
The reason we're all being asked (or perhaps, you might even say hounded) to respond is that under the terms of the GDPR, brands must be able to prove (after 25th May) that they received an individual's consent to send them marketing emails.
I'm sure you've seen a wide selection of examples from brands trying to entice you into allowing them to continue to contact you. Here's a few of my personal favourites and a couple of not so good examples...
New Look
Subject line: "IMPORTANT UPDATE: Give us the green light"
Having just returned some items from a bit of a shopping spree, I felt a little misled by the subject line when I received this. I thought it was about my return - in particular the SHOUTY CAPITALS. These always scream important, so I naturally opened thinking it was about my order (duh!). That aside, as an email marketer, I totally get it. They wanted my attention and they got it. I'm confident they will have seen good open rates with this approach.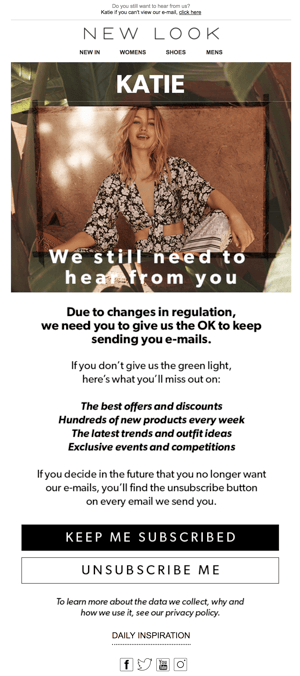 On to the design and content. I love this personalized hero making use of the data they know about me. Simple, yet effective, use of my name as part of a strong design made me instantly more engaged.
Also, I'm quite a fan of the messaging in this email. We all get FOMO (that's the fear of missing out for the non-millennial readers amongst us). New Looks' decision to include a clear reminder of what I would be missing out on is powerful. A great incentive to encourage me to click on that rather large and bold 'Keep Me Subscribed' button.
Overall, this email is clear, concise and to the point. It's obvious what New Look would like from me.
ASOS
Subject line: "The law is changing. Are you set to get your ASOS emails?"
ASOS have smashed it with this email. It's clean, clear and on-brand.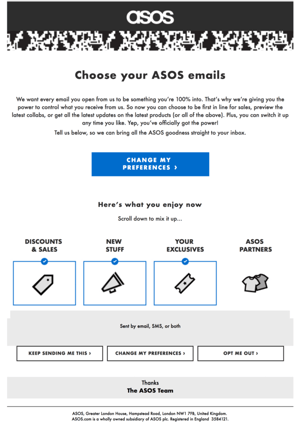 A very different approach to New Look. A direct, business-like email that's stripped back and easy to understand.
Interestingly, ASOS are asking me to change my preferences rather than offering an immediate 'unsubscribe' opt-out. Clever.
I like that this email shows me what I am already opted into and they've made it very easy to select which emails I'd like to continue to receive.
Repeating the CTA at the bottom of the email reinforces me to act now. The serious subject line, which is different to the typical ASOS brand language, made sure I recognised that this was an email to be taken seriously.
Jack Wills
Subject line: *a witty GDPR subject line*
Definitely one of my fave re-permission emails from Jack Wills. I love the subject line; a dash of wit/comedy will go a long way with me. This was a nice change from the more serious subject lines I've seen from many brands.
I really like the sentimentality of this hero. I actually feel like life will be better together!

Again, this is another email using FOMO by including a list of what I risk missing out on if I don't opt back in.
I also really like the strong message above the CTA outlining exactly what option to take and the result I'll get.
Additional benefits of shopping with Jack Wills is included should more persuasion to click yes.
Missguided
Subject: "Say what!?"
Now this is my favourite from Missguided. Their subject line and message in the hero sums up what I'm sure most consumers are thinking when they are receiving these emails!

A very bold approach to the serious subject has got our office giggling!
This humorous explanation of how Missguided use my data is very clever.
They chose to feature UGC in their email to reiterate that they value their customers' opinions.
Bravo Missguided!
Mr Porter
Subject line: ***GDPR TEST***
Now I'm not not sure if this was a conscious decision or a mistake from Mr Porter but we can be pretty certain this subject line received a lot of opens!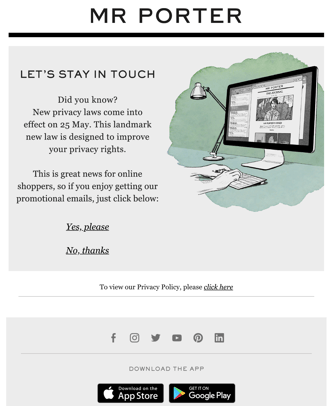 A punchy and positive intro to tell me why I'm being contacted.
A simple CTA asking me to choose to continue receiving their emails, or not.
Thomas Cook
Subject line: "Please confirm you still want to receive emails"
A very direct, short and straight to the point email.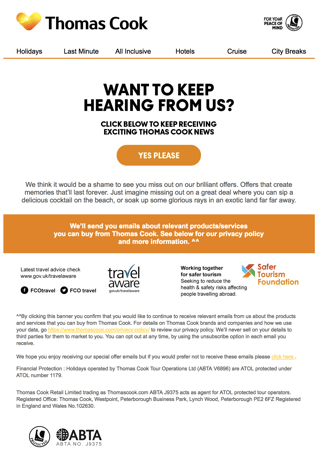 Immediately in the hero image, I know why I am being contacted.
A very clear and bright CTA with simply "Yes Please" to opt back in and some reasons why I should.
By sending an email only focussing on getting me to opt back in, there is no confusion or conflicting messages to distract me from the action.
Dune
Subject line: "Hurry, Up To 20% Off Starts Now!"
Dune have used an email promoting a sale to entice me to opt back in. The subject line has no mention of the GDPR call-to-action I'm hit with in the hero image.

Clear question and referencing the change in law.
Very clear CTA.
Promoting a time-sensitive sale, showing me exactly what I'll be missing if I don't opt back in.
By giving evidence of the types of emails I may miss out on, entices me to say yes.
Clothes2order
Subject line: "Kickdynamic, can we stay in touch?"
I know before opening the email what I am going to be asked.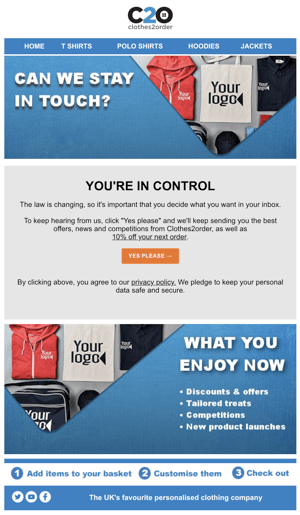 Reinforcing the message in the hero image.
They are explaining why they are emailing me and making reference to the change in data laws. They've been a little sneaky here offering me an incentive to opt back in - 10% off my next order.
Another use of FOMO reminding me what I'll miss out on if I was to stop receiving their emails.
Easyjet
Subject line: "Your booking ETGxxxx: Katie, you're always in control – on your upcoming trip to Malaga and beyond"
This time, a very misleading subject line. I automatically assumed Easyjet were emailing me with important information about my flight and I was hoping it wasn't bad news!
There is no clear CTA in this email, Easyjet are not asking me to opt-in, rather just giving me the option to manage my communication preferences.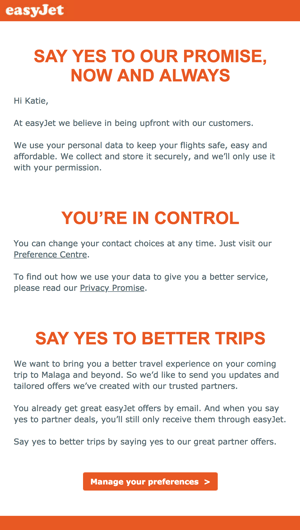 A rather ambiguous headline - I don't immediately know what this email is about.
There is no reference to the fact that the laws on personal data are changing.
The CTA asking me to update my preferences is not very clear. It could have been much brighter or bolder.
The boldest CTA is asking me to update my preferences after explaining the benefits of receiving emails from Easyjet's partners.
Overall, brands seem to be taking different approaches to their re-permission campaigns but I think it's clear that those who are upfront and honest as to why they are asking for consent, making it clear what subscribers will be missing out on if they don't and only giving the one CTA in the email, are going to receive better opt-in rates.
These campaigns are also a great way to cleanse a database, to identify a brand's most engaged and loyal customers.
The chances are, if a brand sends their subscribers relevant, interesting and engaging emails, they will want to continue hearing from you. The GDPR is giving consumers control over their personal data and, as a consumer, I think it's got to be a good thing.