Spotlight: why are brands missing the easy wins?
Love your email BOOHOO but I think you missed a tick…I mean trick... Receiving an email in my inbox with a subject line shouting about a limited time offer usually makes me open instantly – especially from brands I've previously shopped with. So naturally, when an email from Boohoo landed in my inbox with this subject line I was instantly interested:
From: Boohoo
Subject Line: Don't Wait Around - Time's Tickin'
Now as much as I was interested in the offer, I was also intrigued to see how they would display this limited time offer in the email content. Boohoo as a brand have multiple on-going offers so how were they going to make this one stand out? Let's take a look...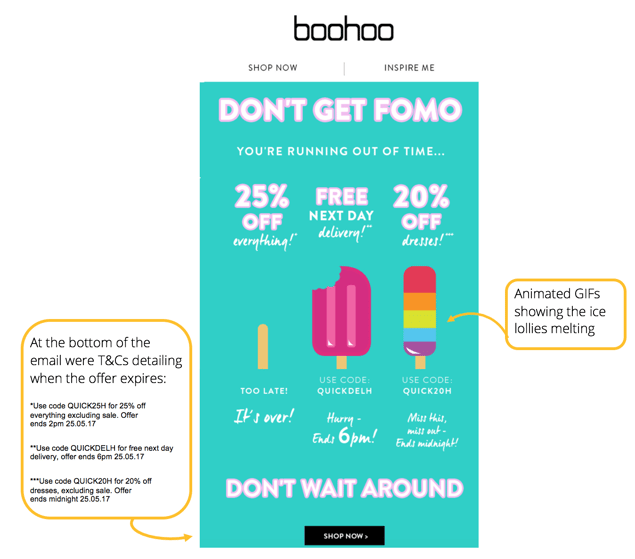 Overall I do like this email. The creative is bold, bright and fun. However, Boohoo definitely missed such an opportunity with this email. Including a live countdown timer alongside the offer would have dramatically added to the urgency of this offer - and most likely would have seen strong engagement and conversion as a result.
When looking at the T&C's which explain the offer, Boohoo were running two different offer code options which both expired on the same day but at different times. However, in this case, the message isn't very clear.
A more effective way of displaying this would have been to include a live countdown timer displaying how many hours, minutes and seconds are left to redeem each offer. This would give the recipients a clear visual indication that if they want to take advantage of the offer, they must do in a specified period of time.
Current content Recommended content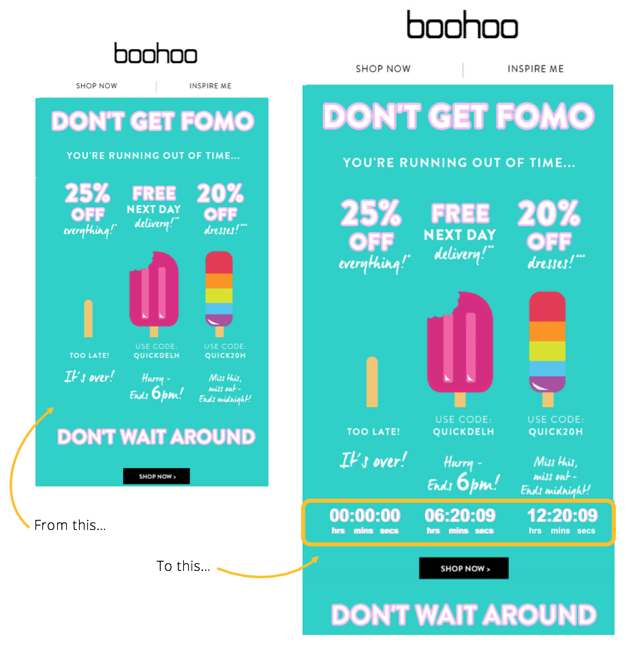 Boohoo is not the only company missing this trick!
I recently received an email from National Express promoting 25% off selected fares. They talk of the sale countdown and even put 'Tick tock, tick tock' in their pre header. Again this would have been a perfect opportinity for a live countdown timer.
Original email With countdown timer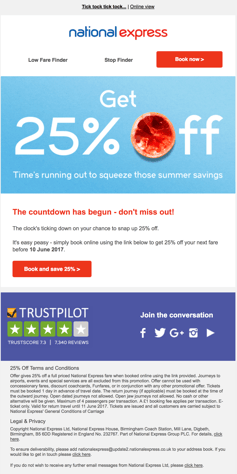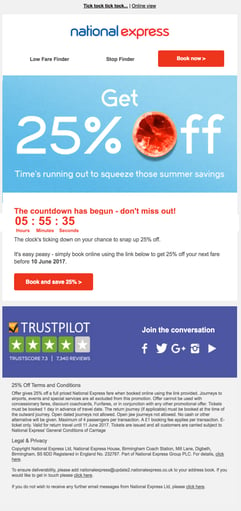 Using subtle animation attracts attention, so including a live countdown timer next to an offer will see an increase in CTR and conversion.
A company who are doing this well is health retailer Holland & Barrett. I recently received an email from them promoting the last day of their half-price sale which featured a countdown timer next to the call to action (best practice in action).
Holland & Barrett have had great sucess using countdown timers strategically to drive urgency in their promotional emails ensuring they hit their YOY increasing revenue targets.

As well as driving urgency and increasing engagement in emails, live countdown timers are also a great means of ensuring your content is always up to date. You can swap the countdown timer with other content after the offer has expired to show content that is always relevant.