Deal Reveal: The best email nobody has thought of!
As you know, Black Friday is fast approching. Your email send volume will be going up and your sending schedule will be jam packed. Chances are that you're stressing already about how it's going to pan out. If that sounds familiar, this suggestion will be right up your street. You can thank us later.
Live image swaps are nothing new. They are SO GREAT for making an email marketers life easier. There's also one fantastic use case that is just perfect for Black Friday. It ticks a fair few boxes:
Up-to-date content: Check.
Innovative use case: Check
Automation: Check.
What is this great idea I hear you thinking? It's the great, big, Black Friday deal reveal!
To build the hype around Black Friday you'll likely be sending an email the day before your deals go live. Here's what to expect, great deals, when it's gone it's gone. That kind of thing. Use this email strategically. Use Kickdynamic to display holding product images (read blurred, locked, hidden) you'll be promoting on Black Friday alongside messaging that calls out that the deals will go live at midnight and that they'll be visible, right here in the email.
There's a heap of benefits with this approach - 1) the deals will automatically be visible at midnight and available to buy, 2) the products can be updated so that you're not promoting anything out of stock, 3) you're encouraging users to check back into your email (more opens, more revenue).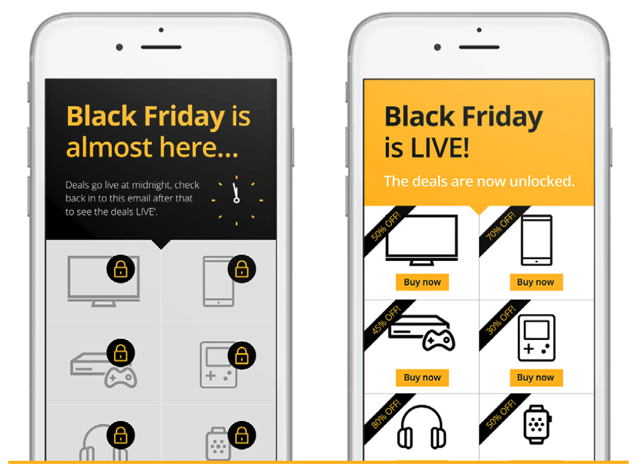 Not only is this super easy to setup, it's a great way to capture the attention of your recipients. You can pair this with other Kickdynamic Tags like a live timer counting down to the reveal, device targeted calls to action, and personalized images.