Happy Birthday to me! I'm ready for your email!
I love checking my inbox when my birthday is just around the corner. Those little birthday email gems that get me excited and make me want to splash out and treat myself… well you only turn 27 once right?
Whilst many of the brands I interact with regularly did send me a little treat to wish me a happy birthday, many didn't. I can't help but think they're missing a trick.

A quick check of my inbox and I can tell you that New Look, Zizzi's, Birchbox and Sport's Direct wanted to celebrate my birthday with me. What did this actually mean for me? Well I did have a cheeky birthday lunch at Zizzi's, I had a browse around the Birchbox site and now have a list of goodies as long as my arm that I intend to 'treat' myself to, and I've got some holiday bargains winging their way to me courtesy of New Look (I'm going to Portugal after I've run the London Marathon if you were wondering).

Would I have spent money with these guys if they hadn't of emailed me about my birthday? Probably yes, because I'm a shameless online shopper, but the key thing is that I did shop directly from each email.

Let's take a look at these emails that made me part with my cash.

New Look
Subject Line: Happy Birthday! Did you really think we'd forget?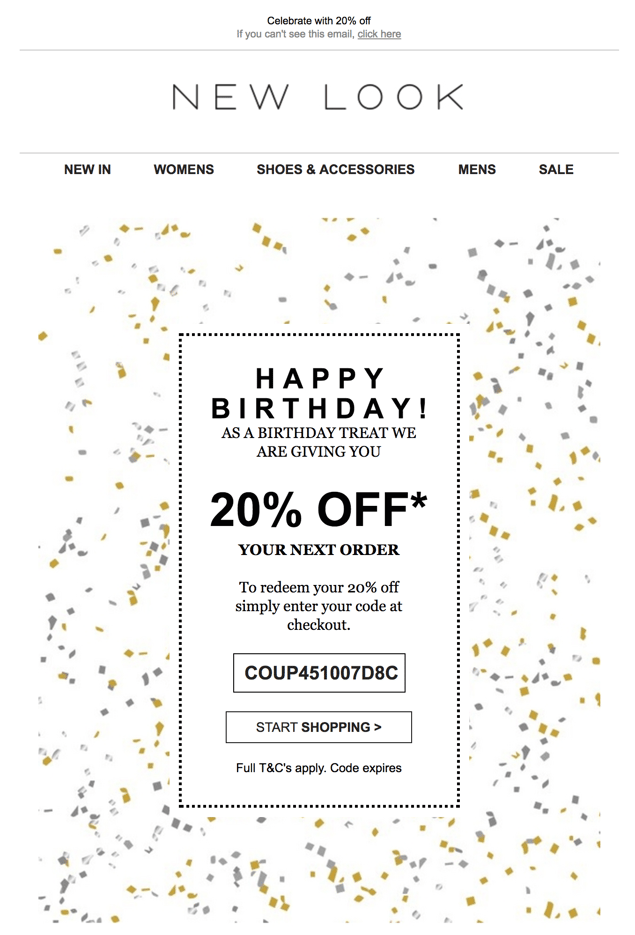 It's a pretty, straightforward email that offers me 20% off my next order as a birthday treat. Whilst the email is basic, it has all the necessary info and a nice call to action to 'Start Shopping'. Although I like the email (20% off – what's not to love), I'd like to see a little more personalization. They know my birthday, so chances are they know my name. A personalized image would be a perfect addition to this email. Perhaps my name in candles over a cake, or on a present.

Another great addition to this email would be to feature some products, perhaps some 'New In' products to get me excited.

Birchbox
Subject line: Jordan, Your Birthday Treat Is Here!

The first thing I though in this email was that they could have used my name in a more meaningful way – again a personalised image would have been a fantastic addition. However I was confused about one aspect of the email. My birthday is in April, but the promo code is 'MARCHBDAY' which is strange.

Unlike New Look, Birchbox have included some products in the email. The addition of 'Best Sellers' is a great idea to pique interest and show their most loved products.

Zizzi's
Subject line: Happy Birthday Jordan!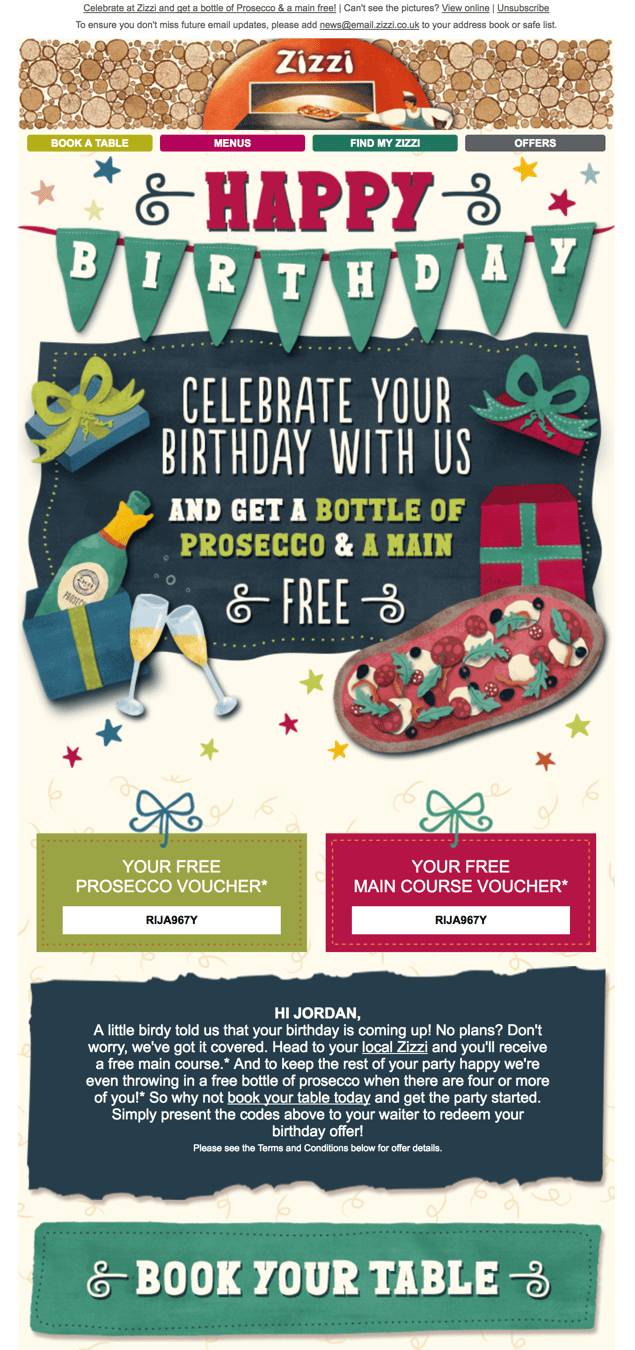 I love the look of this birthday email. It's fun, friendly and inviting. I could be biased as I am a fan of Zizzi's but visually, this was my favourite birthday email. The email featured discreet animations in the image – the stars twinkle and the prosecco bubbles fizz.
I'd have liked to see some personalization – perhaps a personalized image again. Also, a nearest restaurant section would have been a nice touch – I could have clicked through from the email to get directions to my nearest restaurant.

I like the tone used in the message too, particularly:
"A little birdy told us that your birthday is coming up! No plans? Don't worry, we've got it covered."

The messaging is immediately followed by a giant booking button which is great – we all know how important it is to have a killer CTA.

Probably my favourite thing about this email though was that it gave me a bottle of Prosecco & a main meal for FREE! If I was you, I'd sign up right now and tell them your birthday.


Why send birthday emails?
Well the answer is because subscribers like to receive them! If that's not a strong enough reason perhaps the fact that every retailer I've asked has told me that their birthday emails have a significantly higher open and transactional rate when compared to their standard promotional emails. The average order value is also higher from a birthday email as people splash the cash and treat themselves! Essentially once the program is setup, you can watch the revenue roll in - it takes very little maintenance.
We recommend that you include:
Personalized Image: If you've got their name then use it! Personalized images see higher interaction than standard, non-personalized images, so make sure to include one to maximize email performance.
Products: Include a row of products to inspire the recipient to click through and buy. Use content automation to automatically display your new in products & personalize these the recipient using what you know about them.
Trending products: If you're not sure about which products to include, think about including a 'trending on site' section to show off what people are buying at the time the email is opened.
Live social/UGC: Show off your latest Instagram posts to inspire purchase or use a shopable user generated content feed to show the latest snaps from your customers for a personal touch!