Dan Grech's goal for 2017: 'Do less'
Reflecting on the past year naturally brings anticipation of what 2017 will bring to the world of email marketing. 2016 saw our customers increasing use and rely on our product Content Automation product to send more, better email. In an netshell, Content Automation dramatically reduces email build time, whilst also ensuring that the content is highly relevant, personalised and up to date. Implementing this into the email build process sounds like a no brainer right? Who wouldn't want to free up more time for strategic CRM planning?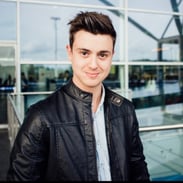 Dan Grech, Head of Marketing at online fashion retailer Trendeo, recently joined the discussion of Digital Marketing Trends of 2017, writing a piece for Smart Insights. His piece titled 'Doing more with less time: The promise of content automation' delves into how you can achieve more by actually doing less.
Read the whole article here.